Leider wahr: "Grey Gardens", das Musical, ist ein Sucker. Der erste Akt komplett überflüssig, die Musik retro und zwar auf die falsche Art und Weise (der Komponist hält sich für Sondheim, war aber noch nicht einmal in derselben Sauna), die Anzahl von Männern und Kindern auf der Bühne idiotisch, wenn man zwei Rollen hat wie Little Edie und Big Edie. Die anderen Bouviers können mir gestohlen bleiben. Schon die Doku kam gut ohne sie aus.
Der zweite Akt hat ein paar schöne Textideen (sämtlich Zitate aus dem Maysles-Film) und das war´s dann auch schon. Gut - die beiden Hauptdarstellerinnen reißen es ein wenig raus, aber es reicht einfach nicht. Das Ärgerlichste: die geniale Vorlage, zu der mir zweihundert bessere Umsetzungsmöglichkeiten einfallen.
And what´s a musical without a catchy tune for Barbrabitch to do a bad cover on one of her next 3 Broadway albums? Fehlanzeige. Hier rein, da raus. Grey Gardens, the movie, starring Jessica Lange, please.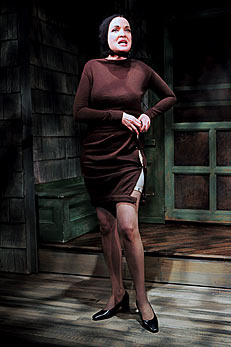 (Immerhin nicht schlecht besetzt und auch sonst quite authentic: Christine Ebersole)